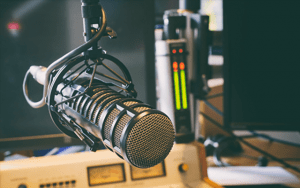 MONDAY to FRIDAY -- 02:00 PM - 05:00 PM
America's trusted voice on money and business, Dave Ramsey is a personal money-management expert and extremely popular national radio personality. His four New York Times best-selling books—Financial Peace, More Than Enough, The Total Money Makeover, and EntreLeadership—have sold more than 7 million copies combined. His latest book, EntreLeadership: 20 Years of Practical Business Wisdom from the Trenches, debuted at number one on the New York Times best-selling list.
By age 26, he had established a $4 million real estate portfolio, only to lose it by age 30. Using the wisdom he gained, Ramsey rebuilt his financial life and now teaches others how to be responsible with their money, so they can acquire enough wealth to take care of loved ones, retire with dignity, and give generously to others.
In 1992, Ramsey founded The Lampo Group, Inc. to provide financial counseling, through various means, to anyone who wants to better understand the principles of proper money management. Twenty years later, the company has grown from a card table in his living room to more than 400 team members and has been voted one of the Best Places to Work in Nashville seven times. Ramsey runs a multi-million-dollar company with a nationally recognized brand, but he defines success by the number of lives changed through his message of hope.
Ramsey offers that life-changing message as host of a nationally syndicated radio program, The Dave Ramsey Show, which is heard by 8 million listeners each week on more than 500 radio stations throughout the United States. In 2009, he was honored as the National Association of Broadcasters Marconi Award winner.
He is the creator of Financial Peace University (FPU), a nine-week program that helps people dump their debt, take control of their money, and learn new behaviors around money that are founded on commitment and accountability. More than 2 million families have attended FPU classes at their workplace, church, military base, local nonprofit organization, community group or Spanish-speaking organization.
Ramsey offers his message of hope through a variety of mediums and products. More than 1,000,000 people have attended a live event, including more than 40,000 EntreLeadership participants. His high school and college curriculums are offered in more than 16,000 schools and educational institutions. The "Dave Says" syndicated column is available to more than 18.5 million readers monthly. Thousands of children have enjoyed his entertaining and educational book series. Daveramsey.com offers free informational articles and streaming of The Dave Ramsey Show.
Ramsey earned his B.S. degree in Finance and Real Estate from the University of Tennessee. Follow Dave on Twitter at @DaveRamsey and on the web at daveramsey.com.