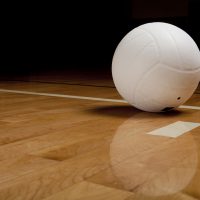 The Hayfield Vikings volleyball team hosted Rochester Lourdes in a non-conference match Monday evening, and the Vikings jumped out to a quick start in the first set and went on to win their sixth match in their last seven 25-9, 26-24, 18-25, 25-8.
Hayfield was led in hitting by Jenna Jacobsen, who registered 12 kills to go with 10 digs, Rachel Park added nine kills and one dig, and Gigi Galdamez and Taylor Burt each tallied five kills, with Galdamez adding two ace blocks while Burt had one ace block plus an ace serve.  Carly Hauschild led the Vikings in ace serves with four, plus she added two kills, one set assist and 11 digs.  Cela Carney piled up 38 digs to lead Hayfield defensivley, plus she tallied an ace serve, and Maryx Young led the Vikings in set assists with 32, plus she also added one ace serve, one kill and six digs, and she also served a 12-0 to start the first set to give the Vikings a quick 12-0 lead.
Hayfield also went 3-1 at their own weekend tournament as they downed LeRoy/Ostrander 2-0, Dover/Eyota 2-1 and Alden/Conger 2-0 before falling to Goodhue in the championship match 2-0.
The Vikings return to action Thursday evening in another non-conference match on the road at Byron, with a start time of 7:15.