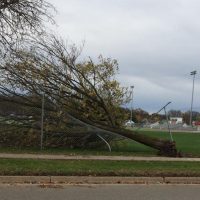 The U.S. Small Business Administration has closed its Disaster Loan Outreach Center in Kasson, but anyone who sustained damage in the storms of June 27 – July 7 can still apply for federal assistance in the form of low-interest disaster loans.
Homeowners, renters, businesses of all sizes, and non-profit organizations with damage from those storms can apply online at DisasterLoan.sba.gov, or by calling 1-800-659-2955 to obtain a hard-copy application. In either case, the completed applications must be submitted by the filing deadline of Sept. 30.
Residents or businesses with damage in Dodge, Goodhue, Mower, Olmsted, Rice or Steele county are eligible to apply.
Even property owners who have insurance can apply for a loan to cover what insurance doesn't and, importantly, they should not wait for their insurance to settle before applying with SBA.