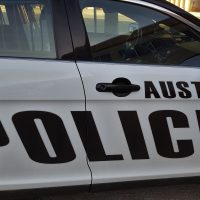 Austin Police are searching for a suspect that robbed an AB Taxi driver at knifepoint early Monday morning.
Mower County Sheriff Steve Sandvik reported that the robbery occurred at approximately 1 a.m. Monday morning at 14th Avenue and 8th Street Southeast. The driver gave the suspect a ride from a Northeast Austin gas station and dropped him off on the 800 block of 14th Avenue Southeast.  Sandvik stated that the suspect gave the driver a $100 bill to pay for the $8 ride, asked for change, then pulled out a knife and demanded all of his money. The suspect took over $300 from the cab driver, and then fled on foot.
The driver described the suspect as a Hispanic male about 5'8" to 5'10" tall with a stocky build in his late 20s or early 30s with short curly black hair and wearing a blue jumpsuit.  
Police have no suspects at last word and the case is still under investigation. 
Anyone with information is encouraged to call the Mower County Law Enforcement Center at 507-437-9400. Reports, as a reminder can be made anonymously.