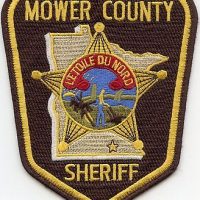 A rural Adams man was transported via air ambulance to the hospital with injuries after his motorcycle went into a ditch near Rose Creek early Saturday morning.
Mower County Chief Deputy Mark May reported that emergency responders were alerted about the accident at approximately 7:07 a.m. Saturday morning.  63-year old Vernon Pugh of rural Adams was riding a 2003 Harley Davidson motorcycle westbound on 180th Street when he lost control on the extremely soggy gravel road and landed in a ditch east of 640th Avenue, northeast of Rose Creek. Pugh called a relative and informed her of his location, and also stated that he was having trouble breathing.
A Mower County Sheriff's Deputy, the Adams Fire Department and Adams Ambulance responded to the scene.  May stated that the deputy requested that Mayo 1 be launched to the scene. Pugh told responders that he was experiencing back pain and had bitten his tongue during the accident. Adams Ambulance personnel transported Pugh to Mayo 1 and he was flown to Mayo Clinic/St. Mary's Hospital in Rochester.  
The motorcycle was towed from the scene.
May stated that Pugh was not wearing a helmet at the time of the accident