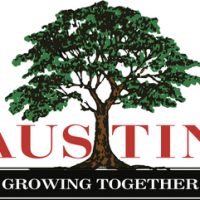 The 2019 Pillars of the City of Austin were unveiled at a ceremony at Bandshell Park Wednesday evening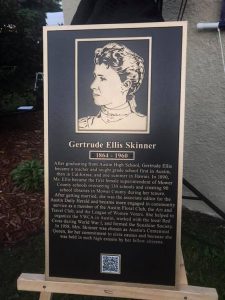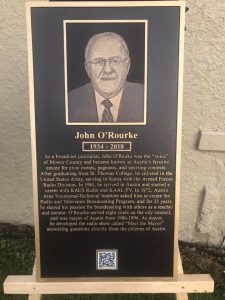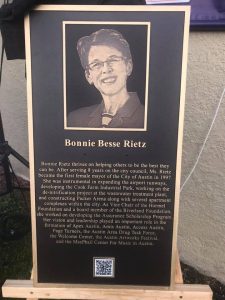 The Pillars of the City flood wall recognition project was established in 2015 with the goal to utilize the flood wall pillars on North Main Street to give recognition to people, in Austin's past and present, who have made significant contributions to improving the quality of life in Austin related to growth, economic impact, health, education, culture, recreation, communications, business or scientific innovation.
2019's honorees include Gertrude Ellis Skinner, who was the first female Superintendent of Mower County Schools overseeing 130 schools and creating 90 school libraries in Mower County during her tenure.  She also helped to organize the YWCA in Austin and worked with the local Red Cross during World War I. Another honoree is John O'Rourke, who started a career with KAUS and KAAL-TV in 1961. He also started the radio and television broadcasting program at the then Austin Area Vocational Technical Institute and taught in the program for 23 years.  The third honoree this year is Bonnie Rietz, who was an Austin City Councilmember for eight years before becoming the first female Mayor in Austin's history in 1997. Rietz also served as Vice-Chair of the Hormel Foundation and a board member of the Riverland Foundation.
2019's Pillars of the City of Austin honorees join George and Jay C. Hormel, Richard Knowlton, Dr. Richard Schindler and Jon Ericson, who were honored in 2016, Ira James Holton, Gary Ray and Esther Morse, who were honored in 2017 and Robert Enright, Lyman Barid and Norm Hecimovich, who were honored in 2018.