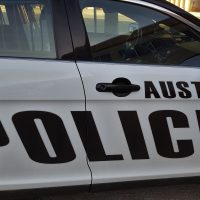 A juvenile male from Mower County is in custody after leading Austin Police on a pursuit in a stolen vehicle last Thursday evening.
Chief of Police Dave McKichan reported that an officer on routine patrol last Thursday evening at approximately 11:00 p.m. came upon a suspicious car, a 2012 Accura TSX in the Hormel Corporate South Office parking lot.  McKichan stated that when the officer turned around to check out the vehicle, it sped out of the lot at a high rate of speed and ended up going the wrong way down the one-way on the north side of Mayo Clinic Health System of Austin.  The officer attempted to initiate a traffic stop, but Chief McKichan stated that the suspect fled from the stop and traveled south at approximately 50-55 miles per hour past Mayo and the YMCA and through two stop signs into downtown Austin where he took a left on 4th Avenue Northeast.  The pursuing officer was joined by a Lieutenant from the Austin Police Department who determined that because of the high speeds, traffic and the location, the pursuit was terminated near the Paramount Theater. The suspect continued down 4th Avenue Northeast at a high rate of speed and McKichan stated that squad cars in the area traveled at normal speeds to see if the suspect would park the car and flee on foot.  A short time later, the vehicle was found disabled on a curb near the 300 block of 10th Street Northeast. Chief McKichan stated that the suspect, a 13-year old male from Mower County was removed from the vehicle and taken to a juvenile placement center.
Officers discovered that the vehicle had been stolen shortly before the incident from Kuehn Motors of Austin.  There were no injuries reported.