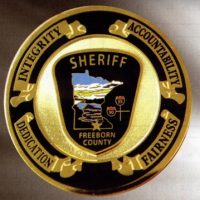 The Freeborn County Board of Commissioners have declared a state of emergency due to damage around the county.
County officials stated that they believe this will be a longer than average outage event and have called it a dangerous situation.  The Freeborn County Sheriff's Department reported that numerous power lines have been damaged or destroyed resulting in power outages and fallen lines.  They went on to state that it is an extremely dangerous situation, and they are recommending limited travel in affected areas.
More than 200 utility poles were reported down Thursday morning.  The Freeborn County Sheriff's Office advised motorists to watch for power lines across the road and low hanging lines over the road.  They went on to say that some roads are temporarily shut down until the area is made safe. Authorities went on to ask motorists to be patient and to anticipate taking an alternate route.  
Interstate-90 at mile marker 146 was shut down for approximately 15-20 minutes this morning due to a power line that dropped down over the road.