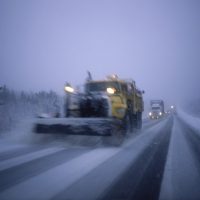 An early spring snowstorm has brought heavy snow, rain, freezing rain, thunderstorms, sleet and high winds to not only southeastern Minnesota, but the rest of the state and the Upper Midwest as well.
Mower County has seen accumulations of approximately two to four inches of snow thus far from the storm, and the winter weather has also closed area schools, including Austin Public Schools and Pacelli Catholic Schools.  Snow and ice accumulation has also made for treacherous road conditions as Mower County Chief Deputy Sheriff Mark May reported that the Mower County Sheriff's Office assisted the Minnesota State Patrol with five accidents in Mower County between 9:30 a.m. and 2:30 p.m. Wednesday, three on U.S. Highway 218 and two on Interstate 90.  Minnesota State Patrol Sgt. Troy Christianson reported that the most severe area was on Interstate 35 between Faribault and Medford, where approximately 40 crashes occurred, including a 15-car pile-up.
The storm has also caused numerous power outages around our KAUS listening area, as outages were reported in Lyle, Grand Meadow and Blooming Prairie Thursday morning. Along Highway 56, several power poles were reported down and a power line had fallen over a portion of U.S. Highway 218. Power lines were also reported down near Dexter.  In Austin, Austin Utilities General Manager Mark Niebaur reported that areas of the city lost power intermittently throughout the night when a line of thunderstorms passed through.  The outages occurred around 1 a.m. Thursday morning with the last of the outages restored between 2-2:30 a.m. Freeborn/Mower Cooperative at one point was reporting outages in every township they serve in Mower and Freeborn Counties, and over 200 power poles were reported down at one point in Freeborn County.  The Freeborn County Sheriff's Office urged drivers to watch for power lines across the road and low hanging lines over the road. They further asked drivers to be patient and to anticipate taking an alternate route.  
Earlier Thursday, Interstate-90 at mile marker 146 was shut down for approximately 15-20 minutes due to a power line that dropped down over the road.