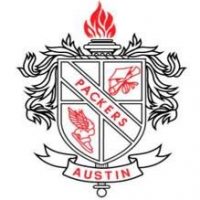 On a night where points were hard to come by for the Austin Packers and the Northfield Raiders, it was the Packers defense that held sway down the stretch in a 57-54 win in the Section 1AAA boys' basketball final at the Mayo Civic Arena.
The Packers and the Raiders were meeting for the third time this season, and for the third straight year in the section finals.  It also was the fourth straight trip to the section finals for the Raiders, who finish with a record of 19-10.
In a back-and-forth defensive battle, the Packers biggest lead of the game was 6, while Northfield held a 5-point lead at one point of the first half.  The Packers led 34-31 at the half, and the battle continued most of the second half until  Dongrin Deng hit a key 3-pointer late to give the Packers a 5-point lead at 56-51, only to see Blake Christenson drill a 3 for Northfield to cut the lead to 2.  The Packers, who were 14 of 26 from the free throw line were not able to ice the game with free throws, but Deng came up with a block on a 3-point shot from the left wing by the Raiders leading scorer, Mason Zick.  After a missed layup, the Packers were able to drain only one more free throw to give Northfield a chance to tie or take the lead with a 4-point play.  Teyghan Hovland then blocked a Zick 3-point attempt from the left corner inside of 10 seconds left, and off the inbounds pass Austin still would not let the Raiders have a clean look at a 3, and forced them to try for a 2-point field goal as time ran out.
Austin's two leading scorers, Medi Obang and Agway Nywesh stepped up offensivley for the Packers with 15 points apiece, while Teyghan Hovland added 9 off the bench for Austin.  Dongrin Deng ended up with 6 points and Moses Idris added 3 for the 23-5 Packers, who are off to the State Class AAA Boys Basketball tournament for the third year in a row and an incredible 32nd time in school history.  It is also the first time in Austin High School history that both the boys and the girls' basketball teams have advanced to the state tournament in the same year.
Up next for the Packers will be the Class AAA quarterfinals next Wednesday at Williams Arena at a time and an opponent yet to be determined.