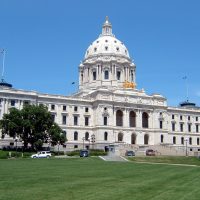 State Representative Jamie Long (DFL—Minneapolis) and State Senator Nick Frentz (DFL—North Mankato) have introduced legislation to move Minnesota toward 100 percent clean energy. This proposal would prompt the state to transition away from power sources that rely on fossil fuels in favor of renewable sources like wind and solar.  Long talked about the legislation from the State Capitol building and stated that time is running out quickly to do something to curb climate change…
Long went on to state that the time is now to set a new clean energy target for Minnesota…
Long added that Minnesota has passed clean energy legislation before….
Supporters of the legislation stated that transitioning to clean energy would benefit the state's economy. Since Minnesota doesn't have fossil fuels, the state spends $13 billion on energy from other states each year.  They stated that keeping that money inside our borders would create new jobs for Minnesotans. Minnesota's clean energy sector is already growing twice as fast as all other sectors of the economy, but supporters added that we are being outperformed by other states despite being home to the number one solar construction company and two of the top wind builders in the country.  
Informational hearings for the legislation are being held this week at the Minnesota State Capitol.