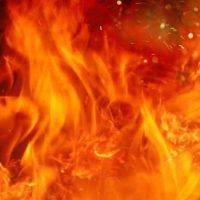 A LeRoy man was transported to the hospital after suffering burns during a Thursday afternoon garage fire.
A Mower County Sheriff's Deputy responded to the fire call at 2:00 p.m. Thursday afternoon at 510 Main St. East in LeRoy.  Chief Deputy Sheriff Mark May reported that by the time the deputy arrived on the scene, the LeRoy and Chester, Iowa Fire Departments had also responded and had extinguished the fire.  A neighbor had heard an explosion and saw black smoke billowing from the chimney and windows of a detached garage on the property of her neighbor, 63-year old Daniel Bartel. She called 9-1-1, and May stated a person hanging drywall in Bartel's residence, 32-year old Pedro Padrone of Austin also heard the explosion and wound up extinguishing the flames on Bartel, who had emerged from the garage on fire.   At Bartel's request, Padrone also removed several items from the burning garage, including several cans of fuel. Authorities learned that Bartel had been conducting electrical work in the garage when the explosion occurred, and he was transported to Mayo Clinic/St. Mary's Hospital in Rochester with burns to his right arm and chest area.
May went on to report that the State Fire Marshal is investigating the exact cause of the explosion and fire, and there was no damage estimate available at last word.