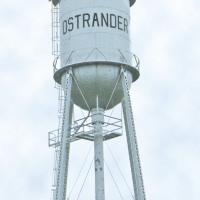 Funding from the U.S. Department of Agriculture will help the City of Ostrander fix its outdated water system.
The city has been working on the water system as part of their Infrastructure Rehabilitation project.  Phase one is already underway, which includes managing the city's wells.  Loan and grant money will help the city pay for Phase two, which includes a new water and sewer system, as well as replacing the city's water tower.
Ostrander City Clerk Wendy Brincks stated that the city would not be able to afford the projects without the funding.  She added that work on Phase two will start in the spring. 
In all, USDA is investing $1.2 billion in rebuilding and improving water infrastructure in rural America.