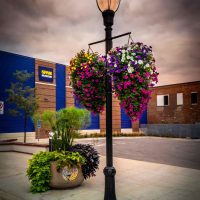 A news conference was held earlier this week to announce the City of Austin's flower basket program for 2019.  Funds are needed to hang the baskets throughout downtown Austin next summer and Bonnie Rietz, one of the project's organizers spoke with John Wright on "Wright Here, Right Now" on KAUS and stated that the project is wonderful not only for residents of Austin, but also for the many visitors to the community…
Rietz went on to state that the funds raised for the project not only beautify downtown Austin, but other parts of the city as well….
Rietz added that the flowers that are planted come from good stock, and that Austin Community Education does a fantastic job caring for them throughout the growing season…
The program started with 168 baskets back in 1995, and will feature 248 baskets in its 24th year in 2019.  Rietz stated that over 110 individuals and businesses donate over $15,000 to the project, Hormel Foods donates $10,000 toward the project each year and the City of Austin will donate $17,500.  Donations are being accepted from now until the end of the year, and if you wish to donate to the project, you can write a check out to the City of Austin and put "flowers summer 2019" on the memo line.  They can then be sent to City Hall at 500 4th Avenue Northeast, or you can drop your check off at City Hall.