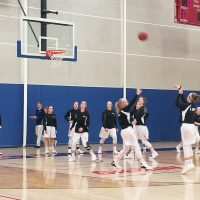 Packers Girls Basketball lead wire to wire in a 73-45 win at Albert Lea on Tuesday.
The Packers opened up a 37-23 lead at halftime, and grew their lead in the second half. Offensively, the Packers caught fire in the middle of the first half. Defensively, the full-court and three-quarter court press wore down an Albert Lea team that leaned on just a pair of scorers.
Austin opened the game on a 6-0 run. The three-points shots did not fall early in the game, but the Packers used their athleticism to break down Albert Lea's defense. The Packers scored their first 12 points by attacking the basket. They made five field goals and hit a pair of free throws.
With the Packers up 12-5, Tigers' leading scorer Samantha Skarstad made the game's first three with just over 12 minutes left in the first half. She finished tied for a game high with 23 points.
After she hit the three, Skarstad stole a pass. She saw a basket get wiped out when Erica Lundberg drew a charge.
A few possessions that ended in turnovers and missed free throws followed before Abby Lewis opened the floodgates in the Packers' three-point shooting night. Austin's captain drained a three just before the eight minute mark in the opening half. Her long ball was the first of 10 that the Packers made over the course of the night.
By the end of the first half, the Packers opened up a 14-point lead at 37-23. Tigers forward Madison Fleek hit a free throw just before halftime to become Albert Lea's third scorer of the first half. Annika Veldman and Skarstad scored the Tigers' first 22 points before Fleek's free throw.
A 14-point halftime victory was a big win for the Packers. Albert Lea was in the double bonus for the final 9:09 of the opening half. Skarstad hit six free throws in the half, but the Packers used five made threes to grow their lead.
Skarstad made the second half's first shot to give the home team confidence. Austin ripped that away with a 17-0 run. That extended the lead to 57-27.
As has been the case in all three wins this season, nine different Packers scored and junior captain Colie Justice topped 20 points. Both of those things have happened in Austin's wins over Byron, Mankato East and Albert Lea.
The Packers improve to 3-1 overall and 2-0 in the Big Nine. They also won their section opener. The girls host Winona on Friday. That is the first Big Nine Basketball home and home of the season. Sam Hauser will broadcast the boys game in Winona.
AUSTIN
GIRLS BASKETBALL @ ALBERT LEA
73-45 Win
Improve to 3-1
Hope Dudycha: team-high 23 points
Colie Justice: 21 points (4 made 3s)
Kyra Walters: 8 points
Abby Lewis/Erica Lundberg: 6 points each
Kiwi VanZant/Ellie Tupy: 2 points each