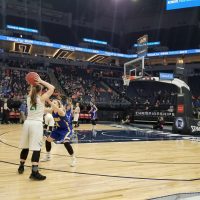 For the first time this season, 36 minutes was not enough to decide a game for Lyle-Pacelli Girls Basketball.
The Athletics held on to beat Randolph on the road on Monday.
LYLE-PACELLI
GIRLS BASKETBALL @ RANDOLPH
54-49/OT Win
Improve to 3-2 (SEC W93)
Olivia Christianson: 17 points, 11 rebounds, 6 steals
Lucy Nelson: 16 points, 14 rebounds
Abigail Bollingberg: 14 points, 6 assists
Kayla Christopherson: 7 points, 7 rebounds
Next game: vs. Lanesboro 12/6
The Athletics will unveil their state championship banner, and honor Christianson's 1000 career point milestone.