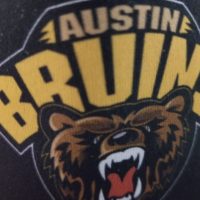 With Austin Bruins head coach Steve Howard being from Michigan, the team has a strong connection with that state.
The Bruins have eight Michigan natives on their roster. Another pipeline is growing just as large.
Bruins goalie Brett Miller announced his commitment to Rensselaer Polytechnic Institute (RPI) on Monday.
Miller becomes the second Bruin this season, and the third since 2017, to commit to RPI. He joins Dylan Davies, who made his commitment in October, and Jon Richards, who is preparing for his sophomore season. Richards recorded five assists in 18 games for the Engineers last season.
Miller entered Friday's start in Minot as the NAHL leader in Goals Against Average. He allowed a season-high four goals in the 4-3 loss to the Toros. Miller has allowed eight goals in his last three starts, but still owns a 1.66 GAA, which is good for second in the league behind teammate Kyle McClellan.
Following a three-point weekend in Minot, the Bruins welcome the Minotauros to Riverside Arena this weekend. Friday's series opener can be heard on AM 1480 KAUS, myaustinminnesota.com and iHeartRadio. Fans can purchase discounted tickets for $6 on our Southern Minnesota Money Saver.