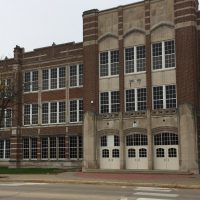 The Austin School Board released its annual goals-based evaluation of Superintendent David Krenz at their meeting Monday evening at the Austin City Council chambers.
The evaluation is conducted upon the recommendation of the Minnesota School Boards Association and the Minnesota Association of School Administrators.  The process of evaluation includes a mid-year assessment of established goals, a year-end goals assessment and review of goals for the upcoming school year. The evaluation was held with Mr. Krenz and the School Board in a closed meeting of the School Board on Monday, September 24.  The evaluation stated that Mr. Krenz is mindful of developing leadership potential throughout the District with training in the Baldrige process, and that following the recommendation to the School Board by the Calendar Working Group, Krenz spent this last year meeting with a variety of community groups providing information, gathering feedback, and answering questions about the balanced calendar concept.
The evaluation also noted that Krenz has worked closely with the district's Communications Committee over the last year developing a new mission statement for the District. After receiving feedback from many stakeholders in the community, the new mission statement was announced as "Engage. Empower. Inspire." Krenz was also commended on his involvement in the community and representing the District in exemplary fashion to a wide variety of groups. The members of the school board stated that they are impressed with both the depth and breadth of work that Superintendent Krenz continues to do on behalf of the students of Austin Public Schools and are excited about the bright future of Austin Public Schools.
In other business Monday evening, the Austin School Board held a first reading of a revised policy concerning unpaid meal charges and approved a revised policy concerning student medication in the district.  The board later retired to a closed session to review student data that is not public and approved confidential resolutions regarding student expulsions per Minnesota Statute 13D.05.
The next meeting for the Austin School Board will be a study session on Monday, October 22nd at 3:30 p.m. at Sumner Elementary.