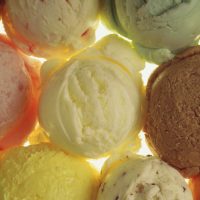 Angelo Orlando knows that his girlfriend loves ice cream and that her favorite flavor is mint
He also was looking for a unique way to get engaged.  So he called on Ben and Jerry's to help make the special day happen.
The Vermont ice cream maker created a special "Marry Me Mint" pint of their mint ice cream. The container was placed at Angelo's local grocery store.
Angelo took the container from the freezer and got down on one knee right in the store and proposed to Kelly Becker after handing her the ice cream. He also gave her a ring and she said "yes".
He said that he wanted his proposal to be a total shock and that's exactly what it was for his surprised bride to be. She admits that she didn't even want to go to the store that night, but is glad she did.