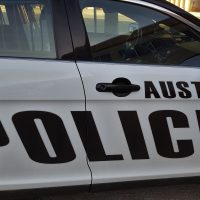 A 16-year-old male suspected of stabbing a 17-year-old male during a group fight on Tuesday night in the Dairy Queen parking lot in Austin was arrested early Thursday morning.
Chief of Police Brian Krueger reported that the 17-year-old victim was stabbed twice in the middle of the back during the Tuesday evening fight at Dairy Queen. The fight began as an argument and shoving match between two groups of teen boys at the Mower County Fair and escalated into a fight when the two groups met again at Dairy Queen.
The victim was treated for his wounds and released from Mayo Clinic Health System in Austin.
Krueger stated that an officer was driving by the suspect's residence at 12:45 a.m. on Thursday when the suspect's mother flagged down the squad car and said her son had just walked through the back door and wanted to turn himself in. The suspect was arrested and taken to the Olmsted County Juvenile Detention Center, where he could face a possible charge of second-degree assault.
Police learned the suspect also had two felony warrants, both for failing to appear in court on an armed robbery charge from June. Chief Krueger stated  that two individuals were robbed in that incident.
Police are not seeking any other suspects in the stabbing.