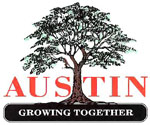 The Austin City Council reviewed a pair of tax abatement applications at their regularly scheduled meeting Monday evening at the Austin City Council chambers.  
The council approved applications from New Horizon Homes, LLC/William Stratton and from Bigelow and Lennon Construction to abate the city's share of property taxes for a term of five years.  The Austin City Council also moved to authorize the city's Toward Zero Deaths grant for 2018-2019, and they also approved a pair of resolutions for a conditional donation agreement and a site access agreement with Austin Community Growth Ventures.
The next regularly scheduled meeting for the Austin City Council will be held on Monday, August 20th at 5:30 p.m. at the Austin City Council chambers.