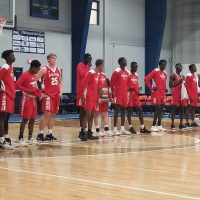 The Austin Packers Boys Basketball increased its total of college commitments by two on Monday.
Point Guard Tate Hebrink will continue his basketball career at the University of Wisconsin-River Falls. He received an offer from Valley City State University in November 2017.
Hebrink averaged 9.6 points game in the postseason, including 14 points in the Section 1AAA Championship game.
His senior season featured more of a facilitator's, but he could takeover a game.
Hebrink's highlight game this season came in Austin's 74-70 Overtime win at Owatonna on February 23. Needing a win to stay in first place in the Big Nine, he scored the Packers' final 12 points in the game. He scored all 10 of Austin's Overtime points, including eight at the free throw line.
Teammate, and Packers leading scorer, Duoth Gach is set to continue a legacy in North Dakota. Gach signed on with North Dakota State College of Science.
Gach Gach, Duoth's older brother, played two seasons at NDSCS from 2016-18.
Duoth lead the Packers with more than 16 points per game in the 2017-18 season. His marquee game came at Mankato East on February 16. He lead all scorers with 32 points. Gach went 6/6 in the first half with a pair of made threes and dunks.
In the third place game, he lead the Packers with 19 points. His buzzer-beating three before halftime was one of the season's top highlights.
Gach's combination of size, speed and athleticism made him a versatile scorer and a tough forward to defend. He and Hebrink were two of Austin's three senior captains last season.
Gach Gach lead NDSCS to a program-record 31 wins in the 2016-17 seasons.