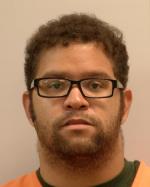 A Toledo, Ohio man is being held in the Mower County jail after he was found to be in possession of a stolen vehicle in Austin.
Chief of Police Brian Krueger reported that dispatch received a call at 11:59 a.m. Tuesday morning from a Hertz rental car company in Ohio advising that they had a stolen vehicle report after a vehicle, a 2017 Toyota with an Ohio license plate number of GZP-5884 had not been returned for 30 days.  Officers were given several different potential addresses in Austin concerning the location of vehicle, and the vehicle was located in the 100 block of 1st Avenue Southeast. The driver, 30-year old Benjamin Marx of Toledo, Ohio was taken into custody and is being held in the Mower County jail on a felony charge of receiving stolen property.
Chief Krueger added that a passenger in the vehicle was given a ride to the Salvation Army.