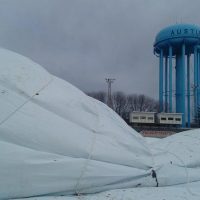 When an indoor sporting event is postponed, it generally has a good reason.
Even in the climate-controlled Packer Dome, mother nature is getting in the way of the Minnesota State High School League's spring season.
With safety as a primary concern, softball teams from Austin, Blooming Prairie, New Richland-H-E-G and other area schools were not able play in the dome on Saturday.
The Packers' next scheduled game is against Red Wing on Tuesday. There is more snow and ice in the forecast for Tuesday and Wednesday.
Packer Dome has been a saving grace for Austin and other teams on its schedule.
On April 5th, the Packers were scheduled to play a game at Northfield. The two sides mutually agreed to move the game to Austin so they could have a chance to play the game.
As snow, freezing rain and other winter elements hit most of the midwest on Saturday, even the dome could not save the latest slate of games.