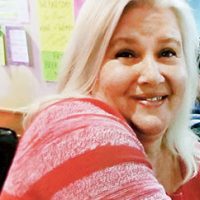 U.S. Marshals in Florida have joined the search for Lois Riess, the rural Blooming Prairie woman who is being sought as a "person of interest" in the shooting death of her husband.
Deputy U.S. Marshal John Kinsey of the Fort Myers, Florida office stated that the involvement of the marshals in Florida came about when they were told by marshals in Minnesota of the search for Lois Riess and were asked to watch for her in or around the Fort Myers area.
The 56-year old Riess has remained elusive since her husband was found dead of multiple gunshot wounds in their home just south of Blooming Prairie nearly three weeks ago.  The search for Riess began Friday, March 23rd after Blooming Prairie Police were called to the home she shared with her husband, 54-year old David Riess. There, police found the body of Riess, which, according to a medical examiner's report, had been there since Wednesday, March 21.
The Dodge County Sheriff's Office took over the investigation with help from the state's Bureau of Criminal Apprehension. Since that time, the U.S. Marshals from the District of Minnesota have joined the search, as have agents with the Iowa Division of Criminal Investigation. As of Monday, the marshals in Florida have joined in the investigation for the time on an unofficial basis.  Lois Riess is described as 5 feet 5 inches tall and weighing 165 pounds with brown eyes and blond hair.
Law enforcement reported that she likely is driving a white 2005 Cadillac Escalade SUV with Minnesota license plate 864 LAE. The vehicle is registered to David Riess.
She is believed to be armed and dangerous.
Anyone with knowledge about this investigation or about the whereabouts of Lois Riess is asked to contact the Dodge County Sheriff's Office at (507) 635-6200.