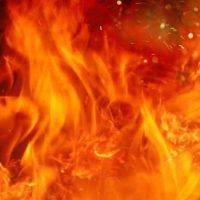 The Austin Police and Fire Departments responded to a report of a house fire in Northeast Austin late Wednesday afternoon.
Chief of Police Brian Krueger reported that officers responded to the fire on the 1200 block of 4th Avenue Northeast at 5:31 p.m. Wednesday.  A witness driving by the residence called authorities and stated that heavy smoke was coming from the south side of the home's roof.  An Austin Police officer was on the scene within one minute of the call and also observed heavy smoke, and one of the homeowners arrived and said that she had been gone for only 15 minutes, only to return to see smoke coming from the house.  The male homeowner also arrived and stated that nothing had been out of the ordinary when he had left the house at 2 p.m.
The Austin Fire Department arrived and were on the scene battling the fire until just after 10 p.m.  Austin Fire Chief Jim McCoy reported that the residents were moving from the house and had furniture stacked in the kitchen in order to clean carpets throughout the house. A box spring mattress, which was stacked on top of some chairs, fell over and ignited one of the stove burners, starting the fire.  The fire caused approximately $45,000 in damage to the home's kitchen and dining room, and there were no injuries reported.
The State Fire Marshal's Office was also called to investigate.