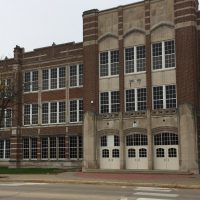 The Austin School Board approved the proposed capital budget for the district for the 2018-2019 school year at their regularly scheduled meeting Monday evening at the Austin City Council chambers.  Mark Stotts, Executive Director of Finance and Operations for the district stated to the board that capital revenues are expected to be $1.84 million, with expenditures at approximately $1.992 million for a deficit budget of approximately $154,000.  He went on to state that the projected fund balance for June 30th, 2019 will be $301,568.
In other business, the board approved an annual resolution directing administration to make recommendations for cost savings and efficient operations, and approved a resolution establishing combined polling places.  The Austin School Board also approved the bid of Interstate Roofing of $318,000 for roofing work for Austin High School's Packer Gymnasium and for a portion of the high school, and also approved the district's fiscal year 2019 integration budget totaling $864,400.
In other business, the Austin School Board received an overview of English Learners programming in the district from Coordinator Lynn Hemann, who told the board that the program currently has 935 students, which is up more than 100 students from last year.  The board also received an overview of the district's new teacher mentorship program from coordinator Edwina Harder, and approved the first readings of revised policies concerning expense reimbursement and drug and alcohol testing in the district.
The Austin School Board's retreat is scheduled for Monday, February 26th from noon-4 p.m. in the district office conference room.