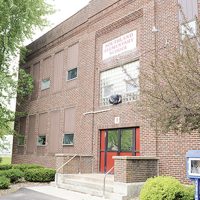 Due to such factors as declining enrollment, rising costs and insufficient funding from the State of Minnesota, the Southland School Board is again looking to possibly close the elementary school in Rose Creek.  KAUS News spoke with Jeff Sampson, the Superintendent of the Southland and LeRoy/Ostrander School Districts who stated that the board directed him to look into the legal process of closing the school if the board chooses to do so, and to see if there would be room for the students at the district's facility in Adams….
Sampson went on to talk about what will be coming up next concerning the situation at the Southland School Board's next meeting later this month….
Voters in the district roundly defeated a $24.5 million referendum in June of 2017 by a vote of 855 no to 360 yes that would have included closing the Rose Creek elementary school and moving students in kindergarten to fifth grade to the main campus in Adams.  The plan was one of seven studied by the 31-member facilities task force and later chose by the Southland School Board as the best to take to the public.  Had the renovation project been approved, all of the district's K-12 students would have been located on the Adams site.  Construction was to have taken place from 2018 to 2019, with the project completed by the opening of school in 2019.