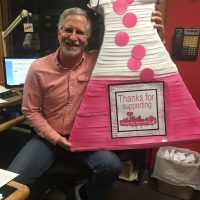 As part of Paint The Town Pink in Austin, we're again spending today raising money on air for the cancer research conducted locally at the Hormel Institute.
We're asking that you become a Partner In Pink by giving a one-time $25 donation to the Hormel Institute Research Fund.
The Hormel Institute is a world-recognized leader in the scientific field showing that dietary factors prevent and control cancer development. We are accelerating cancer research discoveries to achieve our mission: Improve your health and well-being.
Follow this link to give securely online.
And thank you!