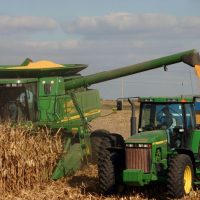 With a few exceptions, the corn harvest in Southeastern Minnesota for 2017 has wrapped up.  KAUS News spoke with Josh Schofner, an Agronomist with DuPont/Pioneer in Zumbrota who stated that the story of the 2017 corn harvest was the length of time it took farmers battling the elements to get the crop into the bin…
Schofner went on to state that there's a very small percentage of corn remaining to be harvested in Southeastern Minnesota….
Schofner noted that the average yield per acre for this year's corn crop in Southeastern Minnesota was very strong….
Schofner also stated that it's a bit too early to speculate as to whether the USDA's prediction that Minnesota's 2017 corn crop would be smaller yield wise than that of 2016 will prove accurate.