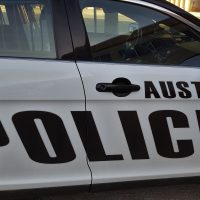 The Austin Police and Fire Departments responded to a suspicious vehicle fire in Southwest Austin Tuesday evening.
Chief of Police Brian Krueger reported that officers responded to the fire on the 700 block of 11th Avenue Southwest at 10:10 p.m. Tuesday evening.  A witness told authorities that he observed what he believed was a white male wearing jeans, a black leather jacket and a white bandana over his face throwing things under the vehicle, a 2005 Buick Century.  The witness went on to say that he then heard several popping sounds, sounding something like fireworks and then observed the rear of the vehicle engulfed in flames.  The suspect was then observed walking in a northeast direction, where he was picked up by a dark colored SUV.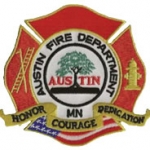 Chief Krueger went on to state that when officers arrived, they saw flames coming out of the right passenger side of the vehicle, and they also found four 20 gauge shotgun shells at the scene and discovered the gas cap for the vehicle in the open position.  The Austin Fire Department arrived and extinguished the blaze.  They then took over the scene, and the State Fire Marshal's Office was contacted to investigate. Fire Chief Jim McCoy reported that the Fire Marshal determined the blaze to be incendiary, and samples found at the scene have been sent to labs for further analysis.
Chief Krueger stated that the case has been turned over to the department's detective staff for further investigation.